Our puzzles are made with precision Waterjet cutting technology and museum-quality artwork printing on waterproof PVC. Assemble yours in the bath, poolside, seaside, in the snow or anywhere you've dreamed of puzzling!
PUZZLE COLLECTIONS
Our latest puzzle art includes artist collaborations, paintings, photography, digital paintings and collages. Get social with our Puzzle Coasters sets!
WATERJET TECHNOLOGY
We support S.T.E.A.M. education! Subscribe to our Youtube page to watch videos of our puzzles being precision cut at Waterjet Works.
Puzzle + Book Combo: Waterjet Works, It Really Does by Philip R. Einsohn, founder of The Puzzled Co.
Waterjet Works: It Really Does contains more than twenty years of case studies and personal stories highlighting the impact and vast potential of Waterjet design from the perspective of Philip R. Einsohn. Philip launched Dallas-based Waterjet Works in 1999, after careers in Early Childhood Education and custom commercial furniture. Waterjet Works developed into a unique business focusing on waterjet design. In 2020, he introduced a new kind of puzzle to the games/toy market with waterjet cut PVC art puzzles by The Puzzled Co. His patent-pending puzzle design Puzzles for EverybodyTM  features tactile clues for kids and adults with visual impairments. 
Buy two Thank you Mini Puzzles or one Simple Level Thank You Puzzle and get a FREE copy of the book.
Buy Puzzle/Book Combo
Did you know our puzzles can be sanitized for schools, libraries and healthcare spaces?
The easiest way to clean your puzzle is with a little dish soap and water, but we experimented with professional grade wipes and proved our puzzles remain vibrant after frequent use and scrubbing. We cleaned this puzzle 100 times, and it looks good as new!
PUZZLERS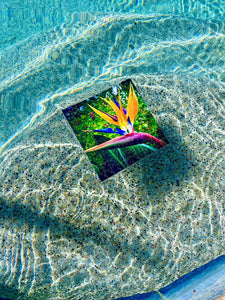 @alexispuzzles puzzles in the pool!
Flower Trip puzzle takes a swim with The Golden State Speed Puzzling Team.
@christi_puzzles "Geometry Homework" puzzle in the snow!
@jigsawjudy artfully sorts "The Lion" puzzle pieces.
@puzzlepastime nails the bathtub challenge with "The Lion" puzzle.
"The Lion" puzzle looks flawless framed.
Bath time fun with @mintyfizz_puzzles + kids!
@mintyfizz_puzzles gives the parent stamp of approval.
"Cloudy Sunset" puzzle pick-up challenge aced!
@tammymcleodpuzzler has a "Monochrome Kitty" Puzzle Coasters party!
@alexispuzzles gets decadent with the "Cocoa Bear" Mini puzzle.
@shokoudesign coffee break with "Christmas Mouse" Mini puzzle.
@minityfizz_puzzles gets a feel for waterjet cut PVC puzzle pieces.
@christi_w takes "Pink Cloud" Mini puzzle for an airplane adventure.
@puzzling.pusing sees the benefits of waterjet technology.
puzzle reviews
We tried one of your puzzles and the whole family got involved. It kept us intrigued, maddened and delighted. The result, when completed, was group pride and a beautiful piece of art worthy of hanging on our wall. Can't wait for your next challenge!

Susan & Allyn
It is hard! But I love it- one of the coolest puzzles I've worked on.

Andrew M.
This puzzle was a formidable challenge and an exhilarating experience, and once I got started, I couldn't stop until the picture was complete! The difficulty of the puzzle made it all the more satisfying once I finally finished!

Michael K.
It was a great time - but please put a disclosure in the box stating that all other life activities stop as you become all consumed! We still have the completed "Lion" puzzles on our coffee table as a trophy of completion.  

Mary D.
This is my third time putting this [Lion] puzzle together. I can't decided if I should finally mount it as artwork or save it...

Maria Sprow, featured graphic artist, on assembling her own Puzzled Co. art edition.
This is a high-quality take-it-to-the-hot-tub puzzle. I love it. I look forward to spending my golden years putting it together.

John W.
I love the texture of the pieces and the quality of the printing. These puzzles are going to divert me from less healthy choices in my life. I'm using this to reroute my brain with less numbing behaviors where I can still think and be present in the moment.

Valerie
The puzzle is a delight!

The waterjet cut is fantastic—the pieces fit so beautifully. 

The "Cloudy Sunset" is a pleasure on the eyes!






Loved the puzzle, it was a challenge! It was very difficult to match the pieces as they were extremely intricate and small.

I am glad that the pieces were made of sturdy material as when I made a mistake connecting two pieces, I didn't have to worry about breaking them. I would like to see a 1000 piece puzzle. 

Joel