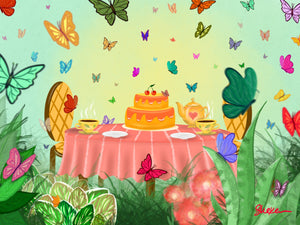 Butterfly Soirée
by Shokou Darbandi
12" x 16"
Simple Level / 192 waterjet cut pieces 
Moderate Level / 266 waterjet cut pieces
Difficult Level / 494 waterjet cut pieces
Waterproof PVC
Made in the USA
*Free U.S. shipping
Shokou Darbandi is a graphic designer, illustrator, and digital artist. She began making oil paintings and then developed her practice into digital painting, often combining other mediums like photography. Her imaginative works are inspired by nature and an early fascination with Surrealism. She studied art at the University of Tehran and immigrated to the U.S. in 2006. Shokou lives and creates in Dallas, Texas. Visit shokoudarbandi.com and follow her on Instagram @shokoudesign.