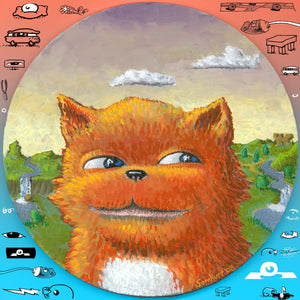 Cat with Landscape
Mini Puzzle
by Sam Hurt 
Cat with Landscape, 2008. Acrylic on canvas; 12" diameter.
The art around the corners is adapted from Eyebeam logo doodles.
Sam Hurt lives and paints in South Austin. Before he became a painter, Sam created the comic strips Eyebeam, found weekly in The Austin Chronicle, on the web at GoComics.com, and in several paperback book collections. He's also a contributor to The New Yorker magazine. Recently, Sam's paintings have been included in a group exhibition at Canvas ATX gallery during the 2021 Austin Studio Tour. Redbud Gallery, Houston featured a solo show of his paintings in 2019. Two of his paintings were on view at Austin City Hall as part of The People's Gallery year-long exhibits.
6" x 6"
121 waterjet cut pieces
Material: Waterproof PVC
Made in the USA
Collect more of Sam's paintings, drawings, and merchandise!