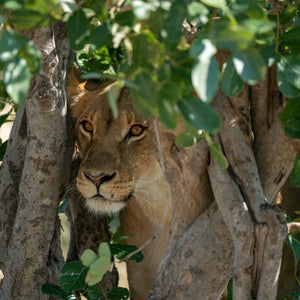 The Lookout

 Photograph by Mary Danz
Location: Savuti, Botswana, South Africa
Mini Puzzle
6" x 6"
121 waterjet cut pieces
Waterproof PVC
Made in the USA
Mary Danz is an American photographer based in Dallas, Texas. She has traveled to isolated locations of the world to capture images of wildlife and landscapes. She took this photograph in Botswana and describes:
"The afternoons can get very hot in the plains, so a lot of female lions seek shade.  It can also serve as camouflage if prey comes. However, most of the hunting usually takes place between night and early morning."
Mary is currently working on her first book BRAVE HER, a major photographic project about facing one's greatest fears and overcoming adversity through powerful portraits of women. In between adventures, Mary also runs an exquisite portrait photography business and cohosts Stages Podcast. Visit marydanzphotography.com or follow @marydanzphoto.