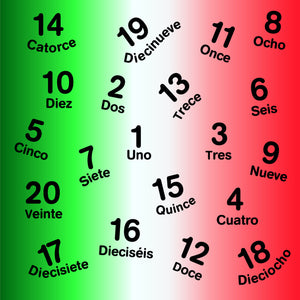 Numbers
(Spanish)
Young Puzzlers Collection 
12" x 12" 
68 bigger waterjet cut pieces
(whimsey corner pieces!)
Waterproof PVC
Made in the USA / Family Owned 
Did you know our puzzles are precisely cut by water as thin as strand of hair? Our unique process combines Waterjet cutting technology and waterproof PVC. You can assemble it in the snow, a bubble bath, poolside, or anywhere you've dreamed of puzzling. We are a family business established in 1977, and revived again in 2020. In 1977, our founder, Philip Einsohn, was a teacher who designed educational puzzles for his students. In 2020, Philip re-imagined The Puzzled Co. through his Waterjet design company and continues to design puzzles for his family and yours. 

Hint: get a S.T.E.A.M experience by watching a video of a Waterjet machine cutting a puzzle. Follow us on Instagram for more!